Deep in Dorset County Museum, on the shelves of the Hardy archive, can be found 25 alphabetically labelled boxes containing the letters that were sent to the novelist and poet Thomas Hardy during his lifetime. The total runs to several thousand. Since September I have been carefully photographing these beautiful letters from the 19th century and early 20th century, to preserve snail mail in a digital age. I'm working through each box, photographing every page and every envelope to form the basis of a digital database – currently I have reached M.
The goal of this blog is to track and share my thoughts about the wide array of letters I'm discovering in the collection. Currently I'm working through the 'M' boxes, which contain about 460 letters. They are a wonderful example of the diversity of this letter collection and include the earliest surviving letter from Hardy's close friend, Horace Moule, written in 1860, alongside notes from editors (John Morley and Mowbray Morris) and publishers (Macmillan) – taken together these show the public and private face of Hardy's correspondence.
In the last few days, some of the most visually appealing material to have come out of the archive boxes has been from John Masefield O.M. (Poet Laureate from 1930-1967). Writing to Hardy in the 1920s – both on a personal level and as the Director of the Hill Players – several of Masefield's letters come with wax-sealed envelopes.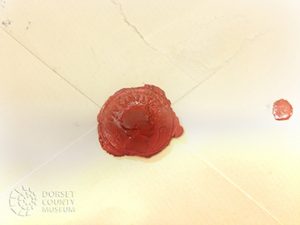 Using a seal ensured that a letter had not been tampered with and confirmed it was written by the supposed sender, so it speaks of the privacy that surrounds familiar letter-writing. However, before the postal reforms of the mid-19th century a seal was also used instead of an envelope to keep down the overall cost. Appearing on Masefield's envelopes as late as the 1920s it is not necessary on a functional level but the red wax impression is an immediate mark of distinction and a personal flourish that takes us to the heart of letter culture.
Other things 'M'…
130 years ago Hardy published The Mayor of Casterbridge .To celebrate this, a local book club called the 'Duryard Readers' have taken on the challenge of reading the novel and will then have the opportunity to pop in for a sneak preview of relevant letters.
Beth Mills – Currently completing a Masters in English, Beth has temporarily joined the team to help photograph and digitally transcribe some of the letters. Beth will be helping out until the end of July (and we predict we'll be safely onto Q by then).